Sitemiz henüz test yayınındadır. Her gün geliştirilmektedir. Şu an çalışmayan özellikler için anlayışınıza sığınmaktayız.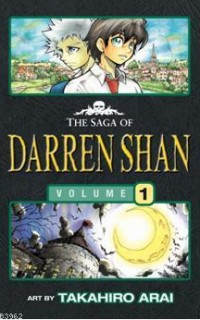 | | |
| --- | --- |
| ISBN | 9780007320875 |
| Yayınevi | Harper Collins |
| Yazarlar | Darren Shan (author) |
| Kitap Tanıtımı | The amazing manga retelling of Darren Shans international best-selling vampire saga, with illustrations by Japanese artist Takahiro Arai. Darren Shan is just an ordinary schoolboy until he gets an invitation to visit the Cirque du Freak until he meets Madame Octa until he comes face-to-face with a creature of the night! Soon Darren is caught up in a web of terror from which he cannot escape, with his best friends life hanging by the finest of threads. Darren must make a bargain to save Steve, but the only one that can help is not human and only deals in blood The stunning illustrations and manga format give a new dimension to this ever-popular vampire saga, available for the first time in translation in the UK. This will be a must-have for Shan fans and manga aficionados alike. |
Kitapseverlerin sosyal ağı neokuyorsun.com yenilenen altyapısı ile tekrar aranızda.

tarsmedia tarafından geliştirilmektedir.