Sitemiz henüz test yayınındadır. Her gün geliştirilmektedir. Şu an çalışmayan özellikler için anlayışınıza sığınmaktayız.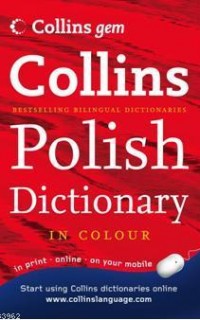 | | |
| --- | --- |
| ISBN | 9780007240012 |
| Yayınevi | Harper Collins |
| Yazarlar | Kolektif (author) |
| Kitap Tanıtımı | This new first edition of the Collins Polish Gem has been specially designed to meet the needs of learners of both Polish and English. A clear colour layout, up-to-date coverage of everyday words and phrases, and a handy travel supplement make this dictionary the ideal portable companion. Collins Polish Gem has been written for all those learning Polish or English for study or for travel. It is the ideal text for anyone who needs a wealth of reliable information in a portable format. A free iPod download of the Phrasefinder supplement is also available to users. The Collins Polish Gem Dictionary contains all the everyday words and phrases used in todays Polish and English that you will need to know, with a practical supplement for travellers. This dictionary offers extra help with essential vocabulary, and thousands of useful phrases to guide you to the correct translation. Clear, colour layout ensures that you can quickly find the information you need |
Kitapseverlerin sosyal ağı neokuyorsun.com yenilenen altyapısı ile tekrar aranızda.

tarsmedia tarafından geliştirilmektedir.