Sitemiz henüz test yayınındadır. Her gün geliştirilmektedir. Şu an çalışmayan özellikler için anlayışınıza sığınmaktayız.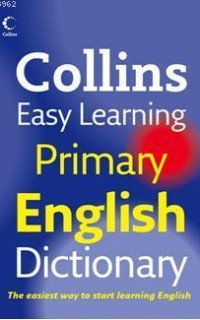 | | |
| --- | --- |
| ISBN | 9780007268429 |
| Yayınevi | Harper Collins |
| Yazarlar | Kolektif (author) |
| Kitap Tanıtımı | Especially designed for children learning English at Upper Primary level, this clear, comprehensive 2-colour dictionary contains all the features essential for upper primary use and much more besides, from homework support via Collins Word Wizard, to brainteaser quizzes and internet links. Collins Easy Learning Primary Dictionary has been especially designed to support the language needs of children at Upper Primary level. Collins Word Wizard provides even more support for key skills such as grammar, writing and spelling, as well as tips on using the Internet and fascinating facts about new and unusual words. The Dictionary develops and reinforces essential dictionary features such as extended entries with multiple definitions, parts of speech (verb, noun, etc), derivations and inflexions (plurals, comparative forms, tenses of a verb, etc), guide words and related words. It provides etymologies for words from both modern languages and cultures and more ancient origins. Synonyms and antonyms are highlighted for common and overused words. Word families are grouped together in word family boxes. Common prefixes and suffixes are highlighted and defined. Usage tips, fascinating facts and word games are found throughout the dictionary to stimulate the user. |
Kitapseverlerin sosyal ağı neokuyorsun.com yenilenen altyapısı ile tekrar aranızda.

tarsmedia tarafından geliştirilmektedir.