Sitemiz henüz test yayınındadır. Her gün geliştirilmektedir. Şu an çalışmayan özellikler için anlayışınıza sığınmaktayız.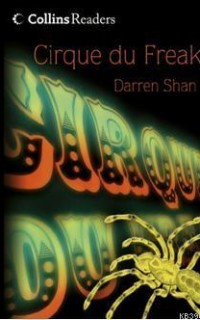 | | |
| --- | --- |
| ISBN | 9780007244843 |
| Yayınevi | Harper Collins |
| Yazarlar | Darren Shan (author) |
| Kitap Tanıtımı | Told in a compelling 'mock-umentary'style, Cirque Du Freak is more than just a spooky supernatural tale. It has bags of teaching potential, and is consistently described as one of the best books to engage reluctant readers and keep them reading. Darren is just your average schoolboy or was, at least until he and his friend Steve buy tickets to the outlawed magical and macabre Cirque Du Freak. Packed with wonderfully grotesque characters including a snake-boy, a wolf-man and, most exciting of all, an enormous performing spider the boys are enchanted, fascinated and yet terrified by the show. Darren, a total spider freak, decides to steal and train the spider to perform amazing tricks. Not realising the extreme consequences of his daring theft, Darren finds himself forced to make a terrible bargain with a creature of the night |
Kitapseverlerin sosyal ağı neokuyorsun.com yenilenen altyapısı ile tekrar aranızda.

tarsmedia tarafından geliştirilmektedir.